March proved to me that I'm more of a mood reader than a "stick to a list of books that I predetermine" reader.  So this month I'm doing sort of the same thing, but with a small caveat. Here's the thing: I've acquired a lot of books since January. Some of which I've read right away, others that I haven't. This month is for those books that I haven't.
Every week of the month of January had one of my most anticipated releases coming out, and on top of that, people were suggesting books that I'd enjoy, so I've got a ton of books that I really want to read but I haven't been able to get to them right away. So my goal for April is to make a pretty nice dent in that pile. Some of my options are:
Comics Will Break Your Heart by Faith Erin Hicks
Miriam's family should be rich. After all, her grandfather was the co-creator of smash-hit comics series The TomorrowMen. But he sold his rights to the series to his co-creator in the 1960s for practically nothing, and now that's what Miriam has: practically nothing. And practically nothing to look forward to either-how can she afford college when her family can barely keep a roof above their heads? As if she didn't have enough to worry about, Miriam's life gets much more complicated when a cute boy shows up in town . . . and turns out to be the grandson of the man who defrauded Miriam's grandfather, and heir to the TomorrowMen fortune.
Bowlaway by Elizabeth McCracken
From the day she is discovered unconscious in a New England cemetery at the turn of
the twentieth century—nothing but a bowling ball, a candlepin, and fifteen pounds of gold on her person—Bertha Truitt is an enigma to everyone in Salford, Massachusetts. She has no past to speak of, or at least none she is willing to reveal, and her mysterious origin scandalizes and intrigues the townspeople, as does her choice to marry and start a family with Leviticus Sprague, the doctor who revived her. But Bertha is plucky, tenacious, and entrepreneurial, and the bowling alley she opens quickly becomes Salford's most defining landmark—with Bertha its most notable resident.
When Bertha dies in a freak accident, her past resurfaces in the form of a heretofore-unheard-of son, who arrives in Salford claiming he is heir apparent to Truitt Alleys. Soon it becomes clear that, even in her death, Bertha's defining spirit and the implications of her obfuscations live on, infecting and affecting future generations through inheritance battles, murky paternities, and hidden wills.
The Wicker King by K. Ancrum
When August learns that his best friend, Jack, shows signs of degenerative hallucinatory disorder, he is determined to help Jack cope. Jack's vivid and long-term visions take the form of an elaborate fantasy world layered over our own—a world ruled by the Wicker King. As Jack leads them on a quest to fulfill a dark prophecy in this alternate world, even August begins to question what is real or not.
August and Jack struggle to keep afloat as they teeter between fantasy and their own emotions. In the end, each must choose his own truth.
The Dreamers by Karen Thompson Walker
In an isolated college town in the hills of Southern California, a freshman girl stumbles
into her dorm room, falls asleep—and doesn't wake up. She sleeps through the morning, into the evening. Her roommate, Mei, cannot rouse her. Neither can the paramedics who carry her away, nor the perplexed doctors at the hospital. Then a second girl falls asleep, and then another, and panic takes hold of the college and spreads to the town. As the number of cases multiplies, classes are canceled, and stores begin to run out of supplies. A quarantine is established. The National Guard is summoned.
Mei, an outsider in the cliquish hierarchy of dorm life, finds herself thrust together with an eccentric, idealistic classmate. Two visiting professors try to protect their newborn baby as the once-quiet streets descend into chaos. A father succumbs to the illness, leaving his daughters to fend for themselves. And at the hospital, a new life grows within a college girl, unbeknownst to her—even as she sleeps. A psychiatrist, summoned from Los Angeles, attempts to make sense of the illness as it spreads through the town. Those infected are displaying unusual levels of brain activity, more than has ever been recorded. They are dreaming heightened dreams—but of what?
In An Absent Dream by Seanan McGuire
Wayward Children Book 4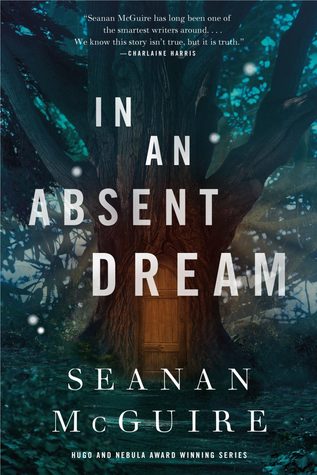 This fourth entry and prequel tells the story of Lundy, a very serious young girl who would rather study and dream than become a respectable housewife and live up to the expectations of the world around her. As well she should.
When she finds a doorway to a world founded on logic and reason, riddles and lies, she thinks she's found her paradise. Alas, everything costs at the goblin market, and when her time there is drawing to a close, she makes the kind of bargain that never plays out well.
Sleeping Giants by Sylvain Neuvel
Themis Files #1
A girl named Rose is riding her new bike near home in Deadwood, South Dakota, when
she falls through the earth. She wakes up at the bottom of a square-shaped hole, its walls glowing with intricate carvings. But the firemen who come to save her peer down upon something even stranger: a little girl in the palm of a giant metal hand.
Seventeen years later, the mystery of the bizarre artifact remains unsolved – the object's origins, architects, and purpose unknown.
But some can never stop searching for answers.
Rose Franklin is now a highly trained physicist leading a top-secret team to crack the hand's code. And along with her colleagues, she is being interviewed by a nameless interrogator whose power and purview are as enigmatic as the relic they seek. What's clear is that Rose and her compatriots are on the edge of unravelling history's most perplexing discovery-and finally figuring out what it portends for humanity. But once the pieces of the puzzle are in place, will the result be an instrument of lasting peace or a weapon of mass destruction?
Come Find Me by Megan Miranda
After surviving an infamous family tragedy, sixteen-year-old Kennedy Jones has made it her mission to keep her brother's search through the cosmos alive. But then something disturbs the frequency on his radio telescope–a pattern registering where no signal should transmit.
In a neighboring county, seventeen-year-old Nolan Chandler is determined to find out what really happened to his brother, who disappeared the day after Nolan had an eerie premonition. There hasn't been a single lead for two years, until Nolan picks up an odd signal–a pattern coming from his brother's bedroom.
Drawn together by these strange signals–and their family tragedies–Kennedy and Nolan search for the origin of the mysterious frequency. But the more they uncover, the more they believe that everything's connected–even their pasts–as it appears the signal is meant for them alone, sharing a message that only they can understand. Is something coming for them? Or is the frequency warning them about something that's already here?
---
That's a lot of books right? Well guess what?
I've also got another handful of books on my shelves that I'm unsure if I want to read still or not. So, if this month allows, I'm going to attempt the "try a chapter" challenge. If you're interested in what happens when I do this challenge, go ahead and follow me on Instagram, where I'll probably be doing story updates with each chapter I read. But, if you're interested in hearing my process and thoughts of each first chapter on here as well, be sure to leave a comment below!
Circle of Shadows by Evelyn Skye
Circle of Shadows #1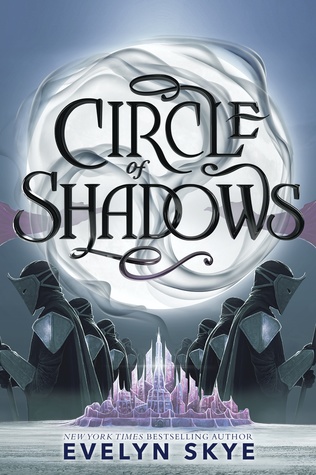 Sora can move as silently as a ghost and hurl throwing stars with lethal accuracy. Her gemina, Daemon, can win any physical fight blindfolded and with an arm tied around his back. They are apprentice warriors of the Society of Taigas—marked by the gods to be trained in magic and the fighting arts to protect the kingdom of Kichona.
As their graduation approaches, Sora and Daemon look forward to proving themselves worthy of belonging in the elite group—but in a kingdom free of violence since the Blood Rift Rebellion many years ago, it's been difficult to make their mark.
So when Sora and Daemon encounter a strange camp of mysterious soldiers while on a standard scouting mission, they decide the only thing to do to help their kingdom is to infiltrate the group. Taking this risk will change Sora's life forever—and lead her on a mission of deception that may fool everyone she's ever loved.
The Gilded Wolves by Roshani Chokshi
The Gilded Wolves #1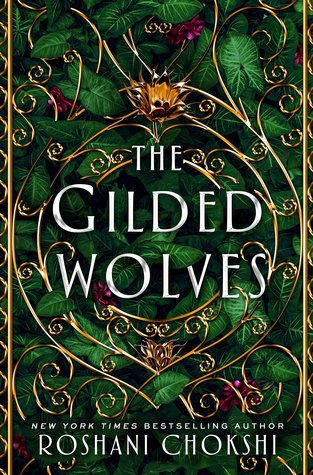 No one believes in them. But soon no one will forget them.
It's 1889. The city is on the cusp of industry and power, and the Exposition Universelle has breathed new life into the streets and dredged up ancient secrets. Here, no one keeps tabs on dark truths better than treasure-hunter and wealthy hotelier Séverin Montagnet-Alarie. When the elite, ever-powerful Order of Babel coerces him to help them on a mission, Séverin is offered a treasure that he never imagined: his true inheritance.
To hunt down the ancient artifact the Order seeks, Séverin calls upon a band of unlikely experts: An engineer with a debt to pay. A historian banished from his home. A dancer with a sinister past. And a brother in arms if not blood.
Together, they will join Séverin as he explores the dark, glittering heart of Paris. What they find might change the course of history—but only if they can stay alive.
Midnight at the Bright Ideas Bookstore by Matthew J. Sullivan
When a bookshop patron commits suicide, his favorite store clerk must unravel the
puzzle he left behind. Lydia Smith lives her life hiding in plain sight. A clerk at the Bright Ideas bookstore, she keeps a meticulously crafted existence among her beloved books, eccentric colleagues, and the BookFrogs—the lost and lonely regulars who spend every day marauding the store's overwhelmed shelves.
But when Joey Molina, a young, beguiling BookFrog, kills himself in the bookstore's upper room, Lydia's life comes unglued. Always Joey's favorite bookseller, Lydia has been bequeathed his meager worldly possessions. Trinkets and books; the detritus of a lonely, uncared for man. But when Lydia flips through his books she finds them defaced in ways both disturbing and inexplicable. They reveal the psyche of a young man on the verge of an emotional reckoning. And they seem to contain a hidden message. What did Joey know? And what does it have to do with Lydia?
As Lydia untangles the mystery of Joey's suicide, she unearths a long buried memory from her own violent childhood. Details from that one bloody night begin to circle back. Her distant father returns to the fold, along with an obsessive local cop, and the Hammerman, a murderer who came into Lydia's life long ago and, as she soon discovers, never completely left.
The Killer in Me by Margot Harrison
Seventeen-year-old Nina Barrows knows all about the Thief. She's intimately familiar with his hunting methods: how he stalks and kills at random, how he disposes of his victims' bodies in an abandoned mine in the deepest, most desolate part of a desert.
Now, for the first time, Nina has the chance to do something about the serial killer that no one else knows exists. With the help of her former best friend, Warren, she tracks the Thief two thousand miles, to his home turf—the deserts of New Mexico.
But the man she meets there seems nothing like the brutal sociopath with whom she's had a disturbing connection her whole life. To anyone else, Dylan Shadwell is exactly what he appears to be: a young veteran committed to his girlfriend and her young daughter. As Nina spends more time with him, she begins to doubt the truth she once held as certain: Dylan Shadwell is the Thief. She even starts to wonder . . . what if there is no Thief?
Limetown by Cote Smith, Zack Akers and Skip Bronkie
On a seemingly ordinary day, seventeen-year-old Lia Haddock hears news that will
change her life forever: three hundred men, women, and children living at a research facility in Limetown, Tennessee, have disappeared without a trace. Among the missing is Emile Haddock, Lia's uncle.
What happened to the people of Limetown? It's all anyone can talk about. Except Lia's parents, who refuse to discuss what might have happened there. They refuse, even, to discuss anything to do with Emile.
As a student journalist, Lia begins an investigation that will take her far from her home, discovering clues about Emile's past that lead to a shocking secret—one with unimaginable implications not only for the people of Limetown, but for Lia and her family. The only problem is…she's not the only one looking for answers.
The Night Olivia Fell by Christina McDonald
A search for the truth. A lifetime of lies.
In the small hours of the morning, Abi Knight is startled awake by the phone call no mother ever wants to get: her teenage daughter Olivia has fallen off a bridge. Not only is Olivia brain dead, she's pregnant and must remain on life support to keep her baby alive. And then Abi sees the angry bruises circling Olivia's wrists.
When the police unexpectedly rule Olivia's fall an accident, Abi decides to find out what really happened that night. Heartbroken and grieving, she unravels the threads of her daughter's life. Was Olivia's fall an accident? Or something far more sinister?
---
Have you guys read any of these books? Let me know which one of these books I should pick up first!