Guess who's back,and on time this month? That's right ladies and gents I've gotten my groove back and my reading slump is over!
Not only did I actually read this month, it was another month of (mostly) above average books. A few of them were just alright, but there were definitely some books I'd list as favorites of the year. Getting down into the details of this month: I read six books total this month. Three of which were for the Buzzwordreadathon.
As I said in my February Wrap Up and March TBR post, the words for this round of the Buzzwordreadathon were: Who, What, When, Where, Why and How. Let me tell you, I tried desperately to read a book for each word. I spent days scrolling through the audiobooks on Audible and Hoopla looking for a short story, a quick novel, anything for all the words. I wanted to be six for six.
I'm guessing the number of books I read this month is a hint at how well that plan went for me. I found books for five of the six words (the word why and I are fighting now), and reading wise I did manage to get three words done (Who, What and Where). I started When the Sky Fell on Splendor by Emily Henry this month, but didn't manage to finish it before the readathon finished. So overall I'm calling this month and readathon a success!
---
A Year at the Star and Sixpence by Holly Hepburn
Read as audiobook, series of novellas
After reading The Bookshop on the Corner by Jenny Colgan, I've had a yearning to read books set in the English countryside. So, when Audible suggested this book to me after I bought The Bookshop on the Corner, I was super into the idea. A series of novellas that follow two sisters, Nessie and Sam, as they navigate life in a small town while running the pub their father left them in his will. I thought this would be a super fast listen and just as fun as The Bookshop, but I was wrong.
I battled with DNF'ing this book with every novella. At the start, we learn two thing: that Nessie and Sam need to escape their lives in London because Nessie is separating from her husband, and Sam….well Sam's reason is a secret. And apparently a huge secret. Such a big secret that the author dragged the reveal along three of the five novellas. I found myself getting more frustrated that the secret wasn't revealed instead of being on the edge of my seat to learn it. The reveal ended up being predictable and felt like just another way to create relationship drama between Sam and her love interest, Joss. Speaking of the relationships, these novellas felt a little bit formulaic with the two relationships, especially with Nessie and her love interest Owen. Every story starts a tug of war with "will they or won't they" with Nessie and Owen, and that was a part of almost every novella.
Overall it was just okay, something good to listen to, but I found myself frustrated with plot points that were mentioned once and almost never mentioned again, and underdeveloped characters overall.
My Goodreads Rating: 3/5 ★
My Actual Rating:  2.5/5 ★
Who Could That Be At This Hour by Lemony Snicket
Read as audiobook, All The Wrong Questions book 1
In my attempt to find one book for each word for the Buzzwordreadathon, my Libby app introduced me to this book by Lemony Snicket. On top of the fact that I love Lemony Snicket books, I like reading middle grade titles to get me out of reading slumps. They're fast and fun reads, especially with the way Lemony Snicket writes. The way he builds worlds is just amazing, so I was super excited to see this one available on my library app.
This book is weird, witty and funny. I had fun while listening to it, but I'm unsure if I'm going to finish the series. While I enjoy Lemony Snicket's writing, finishing this book didn't make me want to instantly pick up book two the way A Series of Unfortunate Events did. I don't have much to say about this book besides the fact it was fun, the mystery was interesting and the narrative voice is classic Lemony Snicket.
My Rating: 3/5 ★
Through the Looking Glass and What Alice Found There by Lewis Carroll
Reread, Alice's Adventures in Wonderland book 2
I was struggling so hard with the word what for the Buzzwordathon, I was about to give up on my hunt when I was looking at my Alice in Wonderland collection. That's where I realized that the second book in the duology had the word what in it, and honestly. I'm ashamed it took me as long as it did to remember.
I haven't reread Through the Looking Glass in a long time, so it was exciting to get back into that world. A lot of the things that I love in the original Disney movie of Alice in Wonderland came from this story. It was a fast reread, and a fun one. I ended up reading this both in hard copy and through an audiobook and listening to the poems and songs from this story through audio was a great addition to the reread.
My Rating: 5/5 ★
Where The Evidence Lies by Jeffrey Deaver
Read as audiobook
I specifically downloaded this audiobook for the Buzzwordathon. It was under an hour and a mystery, so I thought it would be fun. This book was just alright, apparently this was a short story following a character the author has written before, so maybe if I knew more about the main character and the other books he's been in, I'd be more invested. But basically, it felt like when I lived with my parents and we'd have Law and Order playing on the TV while we went about our day.
My Rating: 2/5 ★
A Blade so Black by LL McKinney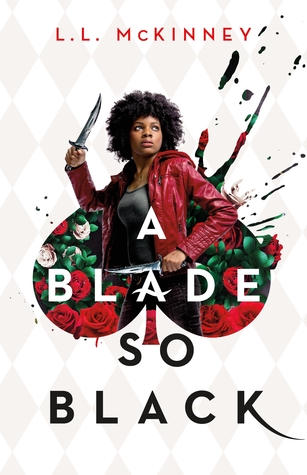 This book took me a long time to get into, but I didn't want to DNF it because the premise was so awesome. The friendship drama at the beginning just bugged me so bad. On top of that, there's a love triangle in here that I felt was kind of obvious and forced, so I dragged my feet at the beginning. But let me tell you something, when the action in this book starts. It. Starts.
About a third of the way through, once the world building of how Alice deals with her real life duties – relationship with her mom, school, friends – on top of her duties as a Dreamwalker is finished and the action really starts, I found myself sitting on the edge of my seat. I also read this book both hard copy and audiobook, and I ended up finishing the book via the audiobook. Let me tell you. I screamed. and then had to sit in my car in my parking garage just taking everything that just happened in. I loved this book, and I'm super excited for book 2!
My Rating: 4/5 ★
The Greatest Love Story Ever Told by Megan Mullally and Nick Offerman
Read as audiobook
I don't usually love celebrity memoirs, but for some reason, Goodreads was really trying to sell this book to me. I had an audiobook credit, and reviews were saying that the audiobook was the funniest thing they've heard in awhile. I love Nick Offerman, so I downloaded it.
It was the best decision I made all month, honestly. Usually when I read audiobooks, I need to take little breaks because I start to get distracted, but Megan Mullally and Nick Offerman kept my interest one hundred percent of the time. It was like listening to a podcast about relationships. I was laughing to myself the entire time I was listening to it, and I finished it all in one day, and honestly, if you're looking for a laugh and a quick read and you don't mind some talk about sex, listen to this book.
My Rating: 5/5 ★
---
And that's it! That's what I read in March! Let me know what you guys read in the comments. Also let me know if you participated in the Buzzwordathon and how well you did because honestly, I need to know what books people read with the word why in it.