Honestly so am I.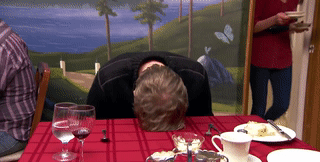 I'm going to be real for a second; February wasn't the best time for me. The latter half of the month I was in a slump. Not just a reading slump, an overall creative slump. All I wanted to do was sit on my couch, watch YouTube videos I've already seen, and put off responsibilities until…well until today. I've been working a lot of shifts, wondering about my future a lot and just overall avoiding doing anything that involved a lot of brain power. But, this week is a new one and I'm feeling creative which is an optimistic change in behavior, so let's talk books!
Like I said, the last part of February wasn't a great time for reading, but I did end up reading five books. Three were for the Contemporaryathon (which i managed to finish all but one of the challenges!) and two were read right before the readathon. While not reading all the books I wanted to read this past month was disappointing, out of the five books I did read, I didn't rate anything lower than a 3 out of 5 stars. So I didn't read as much as I wanted, but I read some pretty great stories. Let's start with what I read for the Contemporaryathon:
Bloom by Kevin Panetta, Savanna Ganucheau
Graphic novel
Contemporaryathon challenges: read a book with blue or purple on the cover, read a book in a nontraditional format, read your most recently purchased book
Ever since I took a class on them in college, I've fallen in love with graphic novels and I'm always keeping an ear to the ground about upcoming graphic novels that seem
interesting. So when I heard this plot idea on booktube (I think Chelsea from Chelseadollingreads mentioned it first) – a teenager wanting to leave his family bakery behind to follow his dreams as a musician int he big city, meeting his replacement and falling for him while baking – I was sold. It sounded cute, it sounded fun. And especially with a readathon happening in February, I was excited to get started.
It was the cutest thing I've read. Not only plot wise either, the illustrations were gorgeous. The entire book was blue toned and that also helped create the atmosphere of a sleepy beach town. This has skyrocketed up my list of favorite graphic novels and now sits at number one. I always have a hard time reviewing graphic novels, but I definitely think if you're a fan of graphic novels and are looking for something new to read, this is a book to pick up.
The Poet X by Elizabeth Acevedo
Read as audiobook
Contemporaryathon challenges: read a diverse book, read a dark or emotional book, read a book in a nontraditional format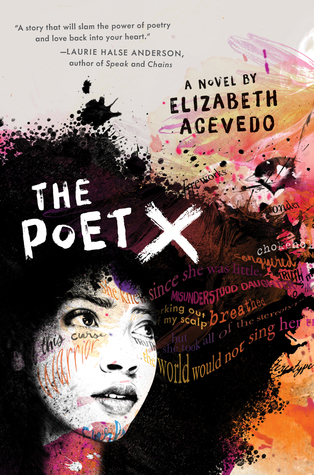 A book written in verse about a teenage girl coming to terms with not having the same religious faith as her mother, and learning about herself through writing her poetry. It sounded beautiful, but I was hesitant. Verse and I have a rocky relationship: sometimes I love it, sometimes I can't get into it. Especially with slam poetry, when the pace and rhythm of your voice is so important; reading the words on a page is what trips me up when it comes to poetry. I don't have the proper cadence when I read it to myself and the meaning will sometimes just fall flat. But when the conteporaryathon came around, I found the audiobook on my library's app, and it felt like a sign that it was time for me to read it. Oh my God, am I glad I did.
The way you follow Xiomara and her personal thoughts and growth throughout the book was moving and beautifully written. I'd definitely suggest listening to the audiobook, because you get to hear the way this poetry – both the story, and the poetry that Xiomara writes – would be performed. I cried, I laughed, I found myself rewinding the audiobook to hear some sections all over again. I loved this book so much, and it was worth every ounce of hype it got throughout the year it's been in existence.
My Rating: 5/5 ★
Bookshop On The Corner by Jenny Colgan
Read as audiobook, Reread
Contemporaryathon challenges: read a book with a picture on the spine
Sometimes you just need a fun read, you know? I read this book for the first time in December after a job interview when I had a long drive home. I popped on the audiobook and it was just one of those books that took you away from the real world for
just awhile. It took away my post-interview jitters an I was able to relax for the first time at all that day. So when I was feeling slightly slumpy close to the end of the month, I popped this book on and just cleaned and hung out around the house. Also yes, I did go to Barnes and Noble to check and see if there's a picture on the spine of the hard copy of this book to be able to check off another challenge in the Contemporaryathon, why do you ask? Anyways…
I love the way Jenny Colgan shares her love of reading in the foreword, where she lists her favorite places to read as a suggestion of where to go with her book. The setting of the book was beautiful and the way Colgan describes the Scottish countryside made me want to go visit a farm in Scotland. I felt that sometimes Nina, our main character, could be a bit too much, and some of her decisions were questionable especially coming from an adult woman. But the story of Nina packing her life up and restarting somewhere new and scary hit home with me and it truly just felt like catching up with a friend reading this book.
My Rating: 4/5 ★
Station Eleven by Emily St. John Mandel
Read as audiobook
I've heard a lot of great things about this book around social media, but I've been hesitant to pick it up. My hesitancy can be summarized in one phrase: post-apocalypse. I hate dystopian novels, I hate stories about the end of the world. They freak me out, I over stress about how I'd survive in the scenario (I probably wouldn't, is my usual conclusion. I am a very weak person), and just overall I don't have a good time. But, my roommate enjoyed it, and everyone else I follow on Goodreads that have read it also enjoyed it, so I threw caution to the wind and borrowed the audiobook from the library.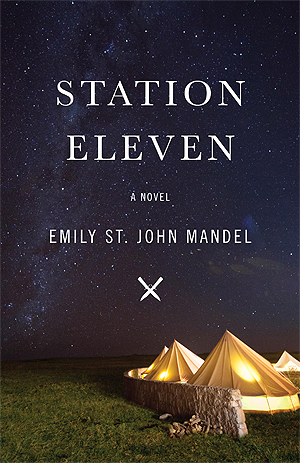 I found myself surprised as I read this book, because of how interested I was in this post "collapse of civilization" (as it's referred in the story). Usually I'm instantly agitated by it, but the way St. John Mandel created the way the world works after a strain of flu eradicates most of the population, was less about said destruction and more about how people were able to get back up. How pockets of civilizations were able to start picking up the pieces. One of the things that I can't handle with dystopian novels is that you very often follow the protagonist in a derelict world fighting to survive at the very beginning of the era. Station Eleven takes place far enough past the fall of civilization, you can see people rebuilding. There was a sense of hope in this story that I never knew I needed from dystopian literature.
There were a lot of characters in this story though, all the characters were vaguely connected in a six degrees of separation sort of way. Sometimes it was hard to follow which characters were where and what part they played in the overarching plot, and very often I found myself thinking I could've done without a few characters. But as time went on, I started to realize that everyone was placed in the story in a way that made sense. You just have to have patience (which I do not have). I definitely enjoyed it and think if you like lush world creating, the idea of the strength of humankind, and a touch of Shakespeare, I definitely think you should pick this up.
My Goodreads Rating: 4/5 ★
My Actual Rating: 3.75/5 ★
The King's Men by Nora Sakavic 
Read as audiobook, reread, All for the Game book 3
The final stage of my accidental reread of the All For The Game series. It's hard to review the third book in a series without spoiling anything, so I'll be brief. I love the arc this series takes, I think the characters are intriguing and amazingly real. I'm going to end up writing a full series review to get into how much I love these books, but I'm really glad I reread them this month.
My Rating: 5/5 ★
---
Okay, now that February is taken care of, let's talk about March. Whenever I'm getting over a reading slump, I like to give myself more room to mood read the month after, so this month I'm going in almost without a plan. I say almost for one reason. The Buzzword Readathon. When this post goes up, it'll be the start of round 3 of the Buzzword Readathon, which has not one word but six. The buzzwords this month are: Who, what when, where, why and how. While I plan on participating, I don't have a ton of books in mind, a lot of my options are dependent on what books are available to borrow from the library. Essentially, I have no idea what I'm going to read this month, so my wrap up at the end of the month will be as much of a surprise to me as it is to you guys!
Alright, that about wraps up my super late wrap up. If you're interested in seeing what books I read as I read them, make sure to follow me on Goodreads or follow me on Instagram where I plan to post more vloggy type things on my story! What are you guys planning to read this month, or if you're participating in the Buzzwordathon, let me know what's on your TBR!