Here's the thing. There might not be that many books on this list, but the amount of pages that I expect myself to read in a 28 day period (keeping in mind that I'm writing this at 11 PM on February 10th, so really, I only have 18 more days to complete this list), is staggering. I actually stacked all my physical copies on my desk just to give myself the visual and…well…
BUT, this list is the best case scenario, also most of this list is my TBR for the fourth round of the Contemporaryathon. When I participate in readathons that have challenges, I like to pick one for each specific challenge, but also a few books that can cover a handful of challenges in one for two reasons. The first being, I know myself, and I like having options. The second being, I know myself, and I know I'm going to get distracted and might possibly walk out of this readathon the same way I walked out of the Buzzwordathon – only reading one book. Besides the Contemporaryathon, though. I've got a handful of books that I bought in January, or have been trying to get to since December that are on this list that I'll hopefully finish in the week after the readathon.
So without anymore explanations (read: excuses) let's get into the books I want to read!
Contemporaryathon
Read the most recent contemporary book you purchased
Sunshine and Sweet Peas in Nightingale Square by Heidi Swain
Kate is on the run from her almost-divorced husband who is determined to have her back, and she has found the perfect place to hide… a little cottage on Nightingale Square in Norwich, far away from her old life in London. But the residents of Nightingale Square don't take no for an answer, and Kate soon finds herself pulled into a friendship with Lisa, her bossy but lovely new neighbor.
Within a matter of days Kate is landed with the job of campaigning the council to turn the green into a community garden, meanwhile all the residents of Nightingale Square are horrified to discover that the Victorian mansion house on the other side of the square has been bought by developers. But when all hope is lost, the arrival of a handsome stranger is sure to turn things around!
Read book with blurple (blue, purple or a mix of the two) on the cover
Night Owls* – Also Known As "The Anatomical Shape of a Heart" by Jenn Bennett 
Beatrix Adams knows exactly how she's spending the summer before her senior year.
Determined to follow in Da Vinci's footsteps, she's ready to tackle the one thing that will give her an advantage in a museum-sponsored scholarship contest: drawing actual cadavers. But when she tries to sneak her way into the hospital's Willed Body program and misses the last metro train home, she meets a boy who turns her summer plans upside down.
Jack is charming, wildly attractive, and possibly one of San Francisco's most notorious graffiti artists. On midnight buses and city rooftops, Beatrix begins to see who Jack really is—and tries to uncover what he's hiding that leaves him so wounded. But will these secrets come back to haunt him? Or will the skeletons in her family's closet tear them apart?
*  – All of my Jenn Bennett books are the UK editions. Night Owls is the UK title of the book The Anatomical Shape of a Heart.
Read a diverse contemporary
The Hate U Give by Angie Thomas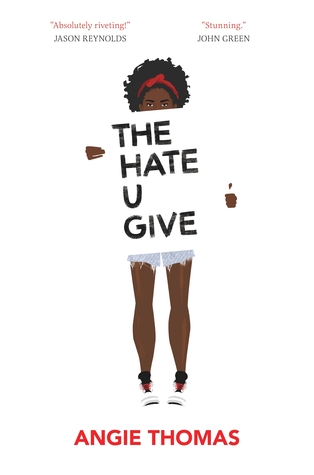 Sixteen-year-old Starr Carter moves between two worlds: the poor neighborhood where she lives and the fancy suburban prep school she attends. The uneasy balance between these worlds is shattered when Starr witnesses the fatal shooting of her childhood best friend Khalil at the hands of a police officer. Khalil was unarmed.
Soon afterward, his death is a national headline. Some are calling him a thug, maybe even a drug dealer and a gangbanger. Protesters are taking to the streets in Khalil's name. Some cops and the local drug lord try to intimidate Starr and her family. What everyone wants to know is: what really went down that night? And the only person alive who can answer that is Starr.
But what Starr does—or does not—say could upend her community. It could also endanger her life.
Read a dark, emotional, or hard-hitting contemporary
Come Find Me by Megan Miranda
After surviving an infamous family tragedy, sixteen-year-old Kennedy Jones has made
it her mission to keep her brother's search through the cosmos alive. But then something disturbs the frequency on his radio telescope–a pattern registering where no signal should transmit.
In a neighboring county, seventeen-year-old Nolan Chandler is determined to find out what really happened to his brother, who disappeared the day after Nolan had an eerie premonition. There hasn't been a single lead for two years, until Nolan picks up an odd signal–a pattern coming from his brother's bedroom.
Drawn together by these strange signals–and their family tragedies–Kennedy and Nolan search for the origin of the mysterious frequency. But the more they uncover, the more they believe that everything's connected–even their pasts–as it appears the signal is meant for them alone, sharing a message that only they can understand. Is something coming for them? Or is the frequency warning them about something that's already here?
Read a contemporary that you meant to read in 2018 but didn't
Starry Eyes by Jenn Bennett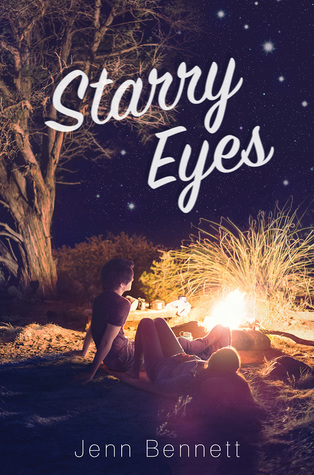 Ever since last year's homecoming dance, best friends-turned-best enemies Zorie and Lennon have made an art of avoiding each other. It doesn't hurt that their families are the modern-day Californian version of the Montagues and Capulets.
But when a group camping trip goes south, Zorie and Lennon find themselves stranded in the wilderness. Alone. Together.
What could go wrong?
With no one but each other for company, Zorie and Lennon have no choice but to hash out their issues via witty jabs and insults as they try to make their way to safety. But fighting each other while also fighting off the forces of nature makes getting out of the woods in one piece less and less likely.
And as the two travel deeper into Northern California's rugged backcountry, secrets and hidden feelings surface. But can Zorie and Lennon's rekindled connection survive out in the real world? Or was it just a result of the fresh forest air and the magic of the twinkling stars?
Read a contemporary in a non-traditional format
Bloom by Kevin Panetta and Illustrated by Savanna Ganucheau 
Now that high school is over, Ari is dying to move to the big city with his ultra-hip band―if he can just persuade his dad to let him quit his job at their struggling family bakery. Though he loved working there as a kid, Ari cannot fathom a life wasting away over rising dough and hot ovens. But while interviewing candidates for his replacement, Ari meets Hector, an easygoing guy who loves baking as much as Ari wants to escape it. As they become closer over batches of bread, love is ready to bloom . . . that is, if Ari doesn't ruin everything.
Read a contemporary with some sort of picture on the spine
Blankets by Craig Thompson
Wrapped in the landscape of a blustery Wisconsin winter, Blankets explores the sibling rivalry of two brothers growing up in the isolated country, and the budding romance of two coming-of-age lovers. A tale of security and discovery, of playfulness and tragedy, of a fall from grace and the origins of faith.
Other Books I Want To Read This Month
Station Eleven by Emily St. John Mandel
An audacious, darkly glittering novel set in the eerie days of civilization's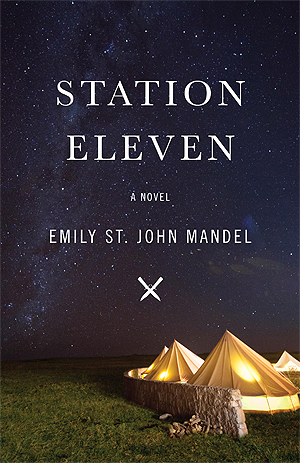 collapse, Station Eleven tells the spellbinding story of a Hollywood star, his would-be savior, and a nomadic group of actors roaming the scattered outposts of the Great Lakes region, risking everything for art and humanity.
One snowy night a famous Hollywood actor slumps over and dies onstage during a production of King Lear. Hours later, the world as we know it begins to dissolve. Moving back and forth in time—from the actor's early days as a film star to fifteen years in the future, when a theater troupe known as the Traveling Symphony roams the wasteland of what remains—this suspenseful, elegiac, spellbinding novel charts the strange twists of fate that connect five people: the actor, the man who tried to save him, the actor's first wife, his oldest friend, and a young actress with the Traveling Symphony, caught in the crosshairs of a dangerous self-proclaimed prophet.
Sometimes terrifying, sometimes tender, Station Eleven tells a story about the relationships that sustain us, the ephemeral nature of fame, and the beauty of the world as we know it.
In An Absent Dream by Seanan McGuire
Wayward Children, Book 4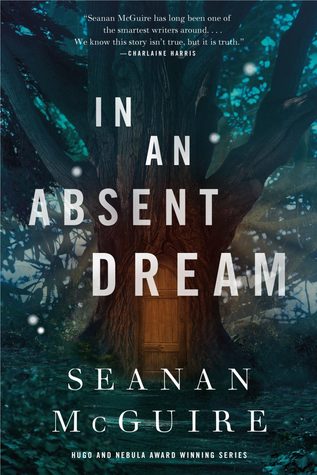 This fourth entry and prequel tells the story of Lundy, a very serious young girl who would rather study and dream than become a respectable housewife and live up to the expectations of the world around her. As well she should.
When she finds a doorway to a world founded on logic and reason, riddles and lies, she thinks she's found her paradise. Alas, everything costs at the goblin market, and when her time there is drawing to a close, she makes the kind of bargain that never plays out well.
A Blade So Black by LL McKinney
The first time the Nightmares came, it nearly cost Alice her life. Now she's trained to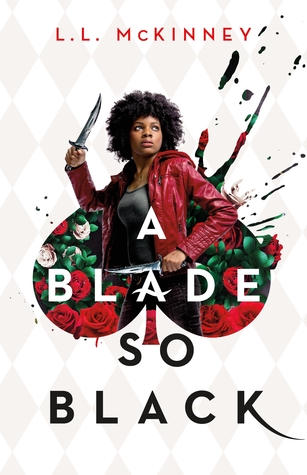 battle monstrous creatures in the dark dream realm known as Wonderland with magic weapons and hardcore fighting skills. Yet even warriors have a curfew.
Life in real-world Atlanta isn't always so simple, as Alice juggles an overprotective mom, a high-maintenance best friend, and a slipping GPA. Keeping the Nightmares at bay is turning into a full-time job. But when Alice's handsome and mysterious mentor is poisoned, she has to find the antidote by venturing deeper into Wonderland than she's ever gone before. And she'll need to use everything she's learned in both worlds to keep from losing her head . . . literally.
---
So that's what I've been reading/what I plan to read this month! If you guys are participating in the contemporaryathon, let me know what you picked for each challenge down below! Even if you're not, let me know what books you're excited for this month!