I'm back! I'm still messing around with the new aesthetic of this new blog, but hey – I started off this year a little late, might as well come into the second month of the year in the same manner right?
January was kind of a frustrating month for me, I found myself DNF'ing more books than I thought I ever would, and then my bookcase collapsed on me which was not a fun time. So overall, I had some downs, but I also had some ups. I didn't rate any book I actually did read this month lower than three stars, which isn't bad. So enough dwelling on the bad, let's get to the book talk!
If you'd like to see updates on my reading in real time, make sure you add me on Goodreads!
---
The Grownup by Gillian Flynn
Four years of creative writing workshops in college has left me with random urges to read short stories. So after hearing
the title of The Grownup by Gillian Flynn being tossed around Booktube TBRs in October, I figured it was a good one. I downloaded it after Christmas and basically forgot about it for two weeks.
When I did get to it, though, the beginning was slow to start. The narrator setting the scene of who she is as a person was dull to read after a few pages, but once the plot got going, it was hard to put down. However, the ending didn't really feel like an ending, felt more like the end of a chapter, like there was supposed to be more to the story. If this story was a full length novel, I think it would've given Flynn the chance to expand on some of the threads in the story that I felt were wrapped up far too quickly. It was a great short story, I just wish there was more.
My Goodreads Rating: 4/5★
My Actual Rating: 3.5/5★
In The Garden of Beasts by Erik Larson

Read as audiobook
My second of three attempts with Erik Larson. In The Garden of Beasts has been on my TBR list longer than Devil in the White City, after I went to Germany my sophomore year of college, our tour guide took us to the Tiergarten in Berlin. He told us about this book and how Tom Hanks was looking into developing an adaptation of it for a TV show. Now if there's anything you need to know about me it's these two things: I'm very interested in the history of World War 2 and I love Tom Hanks. It's been on my TBR ever since, and after reading Devil in the White City, I figured now was as good a time as any to start.
I thought this book was beautifully written and extremely informative, which is pretty much exactly what I'm looking for in a piece of non fiction. The subject of this one was more up my alley than the subjects in Devil in the White City, so it kept my interest a lot more. However, I'm learning that I have to physically read Erik Larson books instead of listening to the audiobooks. When I start doing something else while listening, I found I tune out the audiobook and have to rewind because I didn't get some of the information. My next attempt with Erik Larson will be through a physical book, so we'll see how it goes.
My Rating: 3/5★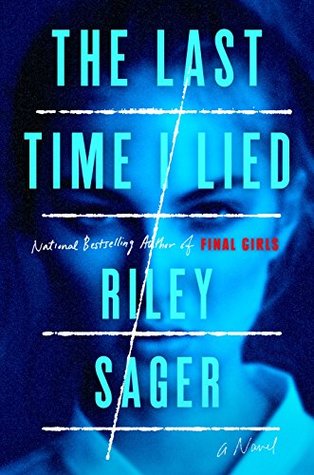 The Last Time I Lied by Riley Sager
Read as audiobook – Buzzword Readathon
I had high hopes for the Buzzword Readathon, I really did. But after not being able to get into the second book on my TBR, everything kind of went downhill for me. However, I finished one book though! The Last Time I Lied by Riley Sager was the buddy read for this round of the Buzzword Readathon (buzzwordathon, I have no clue what the official ruling is on the title), which finally gave me a reason to read this book before I unhauled it.
After reading The Final Girls last Buzzword Readathon, I preordered The Last Time I Lied, urged to the decision by how much I enjoyed Sager's other novel. I had this book picked out for my spooky season reading, but never picked it up. I can't tell you why I didn't pick it up – maybe it was a hunch that I wouldn't love it, maybe it was my residual fear of Sager's last book – but it's been gathering dust on my shelves since I got it. So when it was announced that this would be the group read for this round of the Buzzwordathon, I figured I'd finally give it a shot before I actually got rid of it.
I read this with both the audiobook and physical copy, and overall I thought it was a great story. I definitely preferred reading the physical book over the audiobook, there was something about the cadence of the narrator's voice that didn't keep my interest, but that's a personal problem. There were excellent points in this story, and then some parts that definitely didn't hit the mark for me. Some of the character choices throughout were confusing and I actually found myself more interested in a subplot that ended up not amounting to much in the end than the actual ending. …That was ridiculously ambiguous I know, but I don't want to spoil it for you.
If you enjoyed The Final Girls, I definitely think you'll like this. It was more on the mystery side of things than thriller or horror, but I think that saved this book from being too campy. After reading The Last Time I Lied, I'll definitely be checking out Sager's next book that's set to come out this summer!
My Goodreads Rating: 4/5★
My Actual Rating: 3.75/5★
The Ocean at the End of the Lane by Neil Gaiman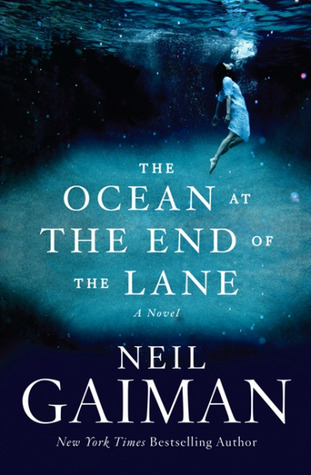 Read as audiobook
January 2019 started with a bang for me. And that bang was my bookcase collapsing. While it was a very painful experience, having to take all the books off my shelves and reorganize, helped me realize just how many books on my shelf I just completely forgot about. I bought The Ocean at the End of the Lane about two years ago, put it on my shelf and haven't even glanced at it since.
Overall I thought this was okay, the plot was interesting, but I found the characters to be kind of dry.  It was a fun read, so I'm glad I finally read it, but I'm pretty sure I won't have the urge to read it again.
My Rating: 3/5★
The Vanishing Stair by Maureen Johnson
Read as audiobook – Truly Devious, Book 2
This book is one of the most anticipated books of 2019, and to be honest, it exceeded all my expectations. I'm not going to go into major details about where we are when the book starts, since it is a sequel and I'm trying to push this book series onto every person I walk by. But I will say, I love every character in this series. Sometimes in YA, I feel like characters can be written into molds, and once they're written in those molds they can't break out of them. The characters Maureen Johnson has created in this series are hilarious and so real, I feel like they were real people I've met before.
On top of the amazing characters, the setting of Ellingham as a whole has been incredible to read about, the idea of this school for gifted students in the mountains in Vermont is honestly at the same magical level to me as Hogwarts. I've been trying to solve both the mystery that takes place while Stevie is at Ellingham and the Ellingham mystery from the past. There is literally only one complaint I have about this book, and it's that it employs the YA trope I absolutely hate: the intentional miscommunication trope.
Basically, when a character is going through something or knows an important piece of information and decides not to tell someone else, and when that other person finds out it's instant conflict. I honestly can't explain why I hate that trope so much, but it's always just frustrating to me, because whenever it's in a book the conflict that ensues right after feels too forced. I'm also extremely sad that I finished this book this quickly, considering that book three is on Goodreads unnamed and with a release date marked as '2020'. With the cliffhanger we were left on, I don't think I'll be able to handle the year long wait for book three. So in the meantime, while I'm waiting for book three, if you haven't read Truly Devious, you need to get on that because I need to talk to someone about how much I love this book series.
My Goodreads Rating: 5/5★
My Actual Rating: 4.95/5★
The Foxhole Court by Nora Sakavic

Read as audiobook – reread – All For The Game, Book 1
This reread was a complete accident. I finished The Vanishing Stair audiobook while I was on the highway to pick up my roommates from the airport and I didn't have any of the books on my TBR downloaded on my audible app. What I did have though, was The Foxhole Court.
I told myself that I would only listen to the first half hour, since that would get me through the rest of the ride I had on my own. But honestly, I should've known that was a lie. I ended up staying up all night listening to this audiobook. The All For the Game series is quickly becoming my all time favorite book series, and I really need to write a full blog post about how much I love it, but until then I'll just say: I find this story intriguing, the characters are super interesting and I just really enjoy this series.
My Rating: 5/5★
The Raven King by Nora Sakavic
Read as audiobook – reread – All For The Game, Book 2
The last book I read this month was the second installment of my "accidental reread". Honestly, I gave myself about nine hours of time away from this series before diving back in and once again, I read this in a day. This book isn't my favorite one in the series, but I still thoroughly enjoyed it.
My Rating: 5/5★
---
That's everything I read in January! What was your favorite book you read in January? Let me know in the comments!