Wow I'm just killing it with the post title game, huh?
Happy New Year everyone!
Before we get started, I just want to assure you all that I haven't forgotten about my Fall Favorites post. As I said in my December TBR, I've been looking into changing things up regarding my blog, the biggest change being a new domain name. When I decided that I was going to change things up, I wanted to hold off on posting since the new domain name would also come with a new graphic aesthetic. Plus, I thought the process would be simple. Spoiler alert: it wasn't.
So, now we're here: the beginning of January 2019, and still no Fall of 2018 Favorites post. But! Don't worry, in the month since I said I'd be making the fall favorites post, I've accumulated a bunch of new favorite things – so it'll now be condensed into an "End of Year Favorites" post, and hold onto your hats people, because it's not going to just be about books. Have you ever wondered how I perfected my procrastination? No? Probably not. But! I'll tell you my favorite things to listen to, watch and read while I should be doing other things. It'll be great. But until then, let's talk about my reading from December.
December was filled with late night packing, waiting in airports and six-hour flights. In terms of reading, I was in arguably a perfect situation. I read a total of 8 books in December, one hard copy and seven audiobooks. I participated in the Tistheseasonathon Readathon, completing three challenges, and I reread three books. Enough stats let's get into the reviews.
The Devil in the White City: Murder, Magic, and Madness at the Fair That Changed America by Erik Larson
Read as audiobook
I love historical nonfiction and I love true crime. When I saw this book in the suggested for me sidebar of Goodreads, I thought it would be perfect. I really picked it up because of the mention of H.H Holmes, but I've always been interested in the 1893 World's Fair, so I thought this book would be a double whammy. It was a good read. There's no doubting the fact that Erik Larson is an excellent writer and a detailed researcher, the book just didn't interest me as much as I hoped.
The HH Holmes bits were kind of overwhelmed by the Worlds Fair part. Based on the audiobook, we'd get about an hour of HH Holmes, quickly followed by three hours of World's Fair construction problems and feuds between rich men on how they wanted to run the fair. There were interesting parts about the World's Fair sections – learning about the birth of the Ferris Wheel, how the fair found its home in Chicago – but, those parts were very architecturally heavy and that wasn't what I was looking for in this book. I also expected the stories to cross paths a lot more than they did. There was one point where Holmes took his then wife and her sister to the Fair, but that was the only time the paths crossed besides the fact that both events happened in Chicago.
Overall, the book was interesting, but I'm glad I ended up picking this book up from the library than buying it from audible.
My Rating: 3/5 ★
Merry and Bright by Debbie Macomber
Read as audiobook – Tistheseasonathon Challenge
I picked this up for two challenges for the Tistheseasonathon: read a warm and fuzzy book, and read a short book. I was looking for a light, fun Christmas read, and Merry and Bright was on a recommendation list. I was drawn to it because the summary was very much like You've Got Mail, which honestly is the best romantic comedy of all time. This book wasn't my favorite, but I wasn't really expecting it to be. I Just wanted to read a fun and fluffy Christmas story, and that's what I got. I felt like some of the characters were too one dimensional in moments and the ending was far too rushed. Overall though, the book wasn't godawful, but it also wasn't show stopping.
My Rating: 3/5 ★
The Afterlife of Holly Chase by Cynthia Hand
Read as audiobook – Tistheseasonathon Challenge – Reread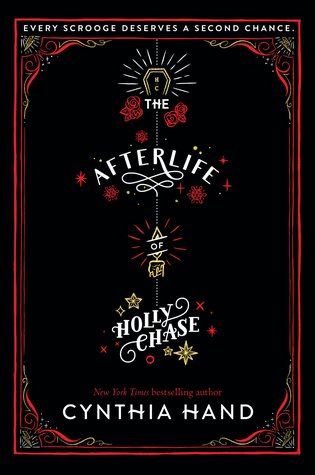 My favorite Christmas story of all time is A Christmas Carol, and every year I watch at least one adaptation of the story. So last year, when I heard about a YA adaptation of A Christmas Carol, it was an instant buy for me. Last year, I read it in one sitting on Christmas day, and it was one of the best reads of the year for me.
The idea of Project Scrooge and what happens to former Scrooges if they don't change their ways was creative and I loved everything about it. The characters were interesting and the callbacks to other works by Dickens were integrated well. Hand did well making A Christmas Carol more modern, which some adaptations have a hard time doing. I read this again this year during the Tistheseason Readathon, and I fell in love with it all over again. This might become a regular yearly reread.
My Rating: 5/5 ★
Neverworld Wake by Marisa Pessl
Read as audiobook – Reread
I'm not sure how to explain how much I love Neverworld Wake without spoiling the favorites post coming soon, but I'll try my damn best. This book was probably the most anticipated book of 2018 for me? Before Neverworld I didn't really watch release dates closely unless the book coming out was a series continuation, which is why this book stood out to me so much. I had marked the release date in my planner because I had read Nightfilm a year ago, and while it terrified me, I knew I liked Pessl's writing. When I found out that she was writing a YA novel? I was sold.
The first time I read through this book, I read it in one sitting. Honest to God on a day off I sat on my couch and didn't look up until I had finished, which I haven't done in years because my attention span is godawful. This book is atmospheric, beautifully written, and filled with some of the most interesting characters and subplots I've ever read. I'm going to leave it here for now, and I'll get more into it in my favorites post, but you need to read this book. It will sit on my favorites shelf for all time.
My rating: 5/5 ★
The Kings Men by Nora Sakavic
Read as audiobook – Reread
Another one of my favorite books of all time, The Kings Men is the third and final book of the All for the Game trilogy, which I've been rereading all year because they've finally been adapted into audiobooks this year. Without spoiling the series, I think the best way to explain my love for these books is to say: it's the characters. The plot at times can be kind of out there, and I never really expected to love a book series about a sports team, but the cast of characters keeps reeling me back in. The Foxes are a team full of people who the world tried to squash down, but David Wymack gave them a second chance in the form of a collegiate exy (a fictional sport, defined as "the bastard child of lacrosse and hockey) team. I just keep going back to these books because I love being a part of this story. In every reread there is a tiny little detail that I pick up.
If I'm being honest with you right now, I'm already planning my next series reread.
My rating: 5/5 ★
The Mistletoe Murders by PD James
Read as audiobook

The Mistletoe Murders was a random choice for me this month. I had just finished The Kings Men, and I wanted to read a Christmas-y story, since I was getting ready to head home. This title came up on my Libby app as a suggestion and I thought it was kind of perfect for me: mystery short stories set at Christmas? Done.
Here's the thing though. I really enjoyed some of these stories, but since I listened to most of this book while I was running errands, I really tended to tune some out. I'm learning rather quickly that I have to physically read mystery stories, so I can keep track of clues, write theories down in the margins, etc. So, if I'm compelled to, I might pick up the e-book version from Libby later and really read the ones I don't totally remember. Overall though, the stories I did remember were interesting and I enjoyed them.
My Rating: 3/5 ★
Hiddensee by Gregory Maguire
The only physical book I read this month! I had picked up a Gregory Maguire book earlier this year, and while it didn't amaze me, I enjoyed it. Maguire has been on my radar since I saw Wicked and found out it was based off a book. I was a little too young to get through Maguire's writing at the time, but now I've been slowly going through his books again.
I mentioned before that my favorite Christmas story is A Christmas Carol, tied for that place, or a very close second, is The Nutcracker. My birthday is early December, so for my birthday when I was a kid, my parents would take me to see The Nutcracker, and I've loved it ever since. Hiddensee is the story of Drosselmeier's life: a magical and mysterious chain of events for a mysterious man. While it wasn't a bright and cheery Christmas story, Maguire's writing was engaging and fantastical. I really enjoyed the book and felt like it was one of the most original retellings I've read in a while. There were points in time that I felt that the world building Maguire added in could be too much and took away from the plot, but all in all, I enjoyed myself while I read, and it was amazing seeing how he weaved in the plot to the Nutcracker in with his own narrative.
My Rating: 4/5 ★
The Man Who Invented Christmas: How Charles Dickens's A Christmas Carol Rescued His Career and Revived Our Holiday Spirits by Les Standiford
Read as audiobook
My final read of the year was all about Charles Dickens's career and how A Christmas Carol affected it. I think I went into this with too high of expectations, because I was expecting a lot more than a biography and that was one hundred percent a me problem. I guess I thought it would be a bit more of an analysis of A Christmas Carol and Dickens's situation during the writing of it, but it was more of an analysis of Dickens's life before the Carol and a little bit after. It was interesting for sure, and I enjoyed learning about how Dickens put in his own life experiences into the Carol, but overall I was hoping for more.
My Rating: 3/5 ★
---
---
So a pretty good way to end the year! Reread some favorites, found some new favorites. Let me know what you guys read to close out 2018 in the comments!