January is a weird month when it comes to building a TBR for me. A lot of the time, I want to start with the books that I didn't get a chance to read the year before, other times I want to just stock up on new releases and call it a day. So, it's kind of up in the air what my final TBR will be, but there's a readathon happening this month – starting today, actually – and a handful of my most anticipated books of the year are coming out this month and if I'm honest, those might take priority over anything else. Since this is being posted the second Monday of the month, I'll start with the books that I had been reading last week!
The Grownup by Gillian Flynn
A canny young woman is struggling to survive by perpetrating various levels of mostly harmless fraud. On a rainy April morning, she is reading auras at Spiritual Palms when Susan Burke walks in. A keen observer of human behavior, our unnamed narrator immediately diagnoses beautiful, rich Susan as an unhappy woman eager to give her lovely life a drama injection. However, when the "psychic" visits the eerie Victorian home that has been the source of Susan's terror and grief, she realizes she may not have to pretend to believe in ghosts anymore. Miles, Susan's teenage stepson, doesn't help matters with his disturbing manner and grisly imagination. The three are soon locked in a chilling battle to discover where the evil truly lurks and what, if anything, can be done to escape it.
A Blade So Black by L. L. McKinney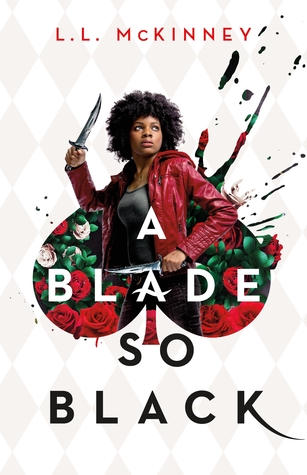 The first time the Nightmares came, it nearly cost Alice her life. Now she's trained to battle monstrous creatures in the dark dream realm known as Wonderland with magic weapons and hardcore fighting skills. Yet even warriors have a curfew.
Life in real-world Atlanta isn't always so simple, as Alice juggles an overprotective mom, a high-maintenance best friend, and a slipping GPA. Keeping the Nightmares at bay is turning into a full-time job. But when Alice's handsome and mysterious mentor is poisoned, she has to find the antidote by venturing deeper into Wonderland than she's ever gone before. And she'll need to use everything she's learned in both worlds to keep from losing her head . . . literally.
The second week of January – aka this week – is round two of the Buzzwordathon! This round the word is 'lie', which was surprisingly difficult for me to find on my shelf so I only have three books for the week picked out, which is…honestly a realistic number for me.
The Last Time I Lied by Riley Sager
Two Truths and a Lie. The girls played it all the time in their tiny cabin at Camp Nightingale. Vivian, Natalie, Allison, and first-time camper Emma Davis, the youngest of the group. The games ended when Emma sleepily watched the others sneak out of the cabin in the dead of night. The last she–or anyone–saw of them was Vivian closing the cabin door behind her, hushing Emma with a finger pressed to her lips.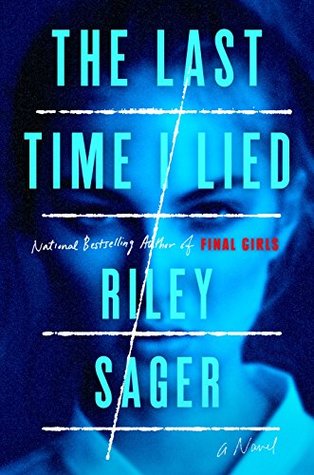 Now a rising star in the New York art scene, Emma turns her past into paintings–massive canvases filled with dark leaves and gnarled branches that cover ghostly shapes in white dresses. The paintings catch the attention of Francesca Harris-White, the socialite and wealthy owner of Camp Nightingale. When Francesca implores her to return to the newly reopened camp as a painting instructor, Emma sees an opportunity to try to find out what really happened to her friends.
Yet it's immediately clear that all is not right at Camp Nightingale. Already haunted by memories from fifteen years ago, Emma discovers a security camera pointed directly at her cabin, mounting mistrust from Francesca and, most disturbing of all, cryptic clues Vivian left behind about the camp's twisted origins. As she digs deeper, Emma finds herself sorting through lies from the past while facing threats from both man and nature in the present.
And the closer she gets to the truth about Camp Nightingale, the more she realizes it may come at a deadly price.
The Safest Lie by Megan Miranda
Kelsey has lived most of her life in a shadow of suspicion, raised to see danger everywhere. Her mother hasn't set foot outside their front door in seventeen years, since she escaped from her kidnappers with nothing but her attacker's baby growing inside her–Kelsey.
Kelsey knows she's supposed to keep a low profile and stay off the grid for their protection, but that plan is shattered when her dramatic car accident and rescue by volunteer firefighter and classmate Ryan Baker sparks media coverage.
A few days later, she arrives home to find her mother missing. Now, to have a chance at a future, Kelsey will have to face her darkest fears. Because someone is coming for her. And the truth about the past may end up being the most dangerous thing of all.
Sweet Little Lies by Caz Frear
In this gripping debut procedural, a young London policewoman must probe dark secrets buried deep in her own family's past to solve a murder and a long-ago disappearance.
Your father is a liar. But is he a killer?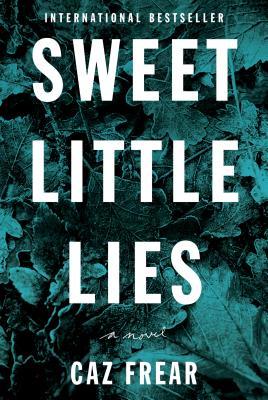 Even liars tell the truth… sometimes.
Twenty-six-year-old Cat Kinsella overcame a troubled childhood to become a Detective Constable with the Metropolitan Police Force, but she's never been able to banish these ghosts. When she's called to the scene of a murder in Islington, not far from the pub her estranged father still runs, she discovers that Alice Lapaine, a young housewife who didn't get out much, has been found strangled.
Cat and her team immediately suspect Alice's husband, until she receives a mysterious phone call that links the victim to Maryanne Doyle, a teenage girl who went missing in Ireland eighteen years earlier. The call raises uneasy memories for Cat–her family met Maryanne while on holiday, right before she vanished. Though she was only a child, Cat knew that her charming but dissolute father wasn't telling the truth when he denied knowing anything about Maryanne or her disappearance. Did her father do something to the teenage girl all those years ago? Could he have harmed Alice now? And how can you trust a liar even if he might be telling the truth?
Determined to close the two cases, Cat rushes headlong into the investigation, crossing ethical lines and trampling professional codes. But in looking into the past,
she might not like what she finds…
To round out the list, I've got a few books that are coming out this month that I'm excited about but I'm not sure I'll be able to get to in January.
In an Absent Dream by Seanan McGuire
Wayward Children, Book 4 – Release Date: January 8th, 2019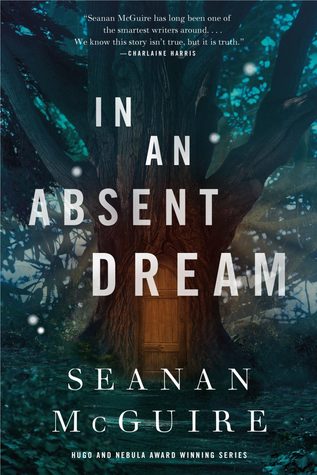 This is the story of a very serious young girl who would rather study and dream than become a respectable housewife and live up to the expectations of the world around her. As well she should.
When she finds a doorway to a world founded on logic and reason, riddles and lies, she thinks she's found her paradise. Alas, everything costs at the goblin market, and when her time there is drawing to a close, she makes the kind of bargain that never plays out well.
For anyone . . .
The Dreamers by Karen Thompson Walker
Release Date: January 15th, 2019
In an isolated college town in the hills of Southern California, a freshman girl stumbles into her dorm room, falls asleep—and doesn't wake up. She sleeps through the morning, into the evening. Her roommate, Mei, cannot rouse her. Neither can the paramedics who carry her away, nor the perplexed doctors at the hospital. Then a second girl falls asleep, and then another, and panic takes hold of the college and spreads to the town. As the number of cases multiplies, classes are canceled, and stores begin to run out of supplies. A quarantine is established. The National Guard is summoned.
Mei, an outsider in the cliquish hierarchy of dorm life, finds herself thrust together with an eccentric, idealistic classmate. Two visiting professors try to protect their newborn baby as the once-quiet streets descend into chaos. A father succumbs to the illness, leaving his daughters to fend for themselves. And at the hospital, a new life grows within a college girl, unbeknownst to her—even as she sleeps. A psychiatrist, summoned from Los Angeles, attempts to make sense of the illness as it spreads through the town. Those infected are displaying unusual levels of brain activity, more than has ever been recorded. They are dreaming heightened dreams—but of what?
The Vanishing Stair by Maureen Johnston
Truly Devious Book 2 – Release Date: January 22nd, 2019 
All Stevie Bell wanted was to find the key to the Ellingham mystery, but instead she found her classmate dead. And while she solved that murder, the crimes of the past are still waiting in the dark. Just as Stevie feels she's on the cusp of putting it together, her parents pull her out of Ellingham academy.
For her own safety they say. She must move past this obsession with crime. Now that Stevie's away from the school of topiaries and secret tunnels, and her strange and endearing friends, she begins to feel disconnected from the rest of the world. At least she won't have to see David anymore. David, who she kissed. David, who lied to her about his identity—son of despised politician Edward King. Then King himself arrives at her house to offer a deal: He will bring Stevie back to Ellingham immediately. In return, she must play nice with David. King is in the midst of a campaign and can't afford his son stirring up trouble. If Stevie's at school, David will stay put.
The tantalizing riddles behind the Ellingham murders are still waiting to be unraveled, and Stevie knows she's so close. But the path to the truth has more twists and turns than she can imagine—and moving forward involves hurting someone she cares for. In New York Times bestselling author Maureen Johnson's second novel of the Truly Devious series, nothing is free, and someone will pay for the truth with their life.
Come Find Me by Megan Miranda
Release Date: Janaury 29th, 2019
After surviving an infamous family tragedy, sixteen-year-old Kennedy Jones has
made it her mission to keep her brother's search through the cosmos alive. But then something disturbs the frequency on his radio telescope–a pattern registering where no signal should transmit.
In a neighboring county, seventeen-year-old Nolan Chandler is determined to find out what really happened to his brother, who disappeared the day after Nolan had an eerie premonition. There hasn't been a single lead for two years, until Nolan picks up an odd signal–a pattern coming from his brother's bedroom.
Drawn together by these strange signals–and their family tragedies–Kennedy and Nolan search for the origin of the mysterious frequency. But the more they uncover, the more they believe that everything's connected–even their pasts–as it appears the signal is meant for them alone, sharing a message that only they can understand. Is something coming for them? Or is the frequency warning them about something that's already here?
---
There we go! My planned and anticipated reads of January 2019! What are you guys excited about to get your hands on this month? Let me know in the comments!